News
New and Stylish: the TPPC Series Passenger Information Panel PC
07.05.20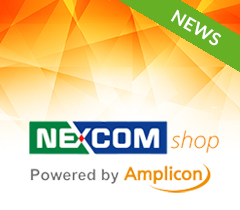 Bigger is better in the case of NEXCOM's updated TPPC 2401/2701/3201 passenger information panel PC. Reflecting the demand for larger-size signage solutions in smart transportation and retail arenas, the TPPC series comes in three different sizes, 24", 27", and 32". Apart from increased dimensions, it also uses the Atom
®
CPU for lower power consumption and, thus, offers more value for your money. Finally, designed for more protection and occupying less space, the TPPC series now uses the M.2 standard as its storage interface, backed by IP54 and E-Mark certifications.
Variety is the spice of life
NEXCOM extends the TPPC series' variety of sizes to fit an assortment of environments. With the TPPC series' full HD resolution, passengers can easily and clearly view journey information, news, advertisements, and commercials. Other customers have even used the computer to increase audience engagement in shopping malls and retail environments. IP54 and E-mark certifications also guarantee the fanless panel computer's safety and durability.
Enjoy a revamped system design
With our redesign, we've made the TPPC 2401/2701/3201 more budget-friendly. Using the Intel Atom
®
CPU consumes less power, meaning that you can put your money to other uses. What's more, the CPU takes up less space, meaning that we've been able to increase the quantity and selection of I/Os. We now have four USB 3.0 and one HDMI port, in addition to one COM and two LAN ports, meaning that all of your ancillary devices can link up easily with the passenger information panel PC.
Protected against the elements

You can be sure that the panel PC withstands vibration and shock, especially with our use of the M.2 interface for storage space. We've added further safeguarding with the iron enclosure kit, so no matter the manner of ground transportation, you have the assurance that your audience will experience an uninterrupted flow of information.
Main Features
23.8"/27"/31.5" TFT-LCD FHD 16:9 fanless panel computer
Intel Atom® x5 E3930 processor (Apollo Lake), 1.3Ghz (max. 1.8Ghz)
Wide-range DC input of 9V to 36V DC
Front bezel compliant with IP54
Tempered glass
DDR3L up to 8GB; M.2 (2242) B key SSD for storage device
One expansion port reserved
CE/FCC/E-Mark
News Archive

NEXCOM brings you our newest OPS digital signage player, the NDiS M538. Intended for those that require a high-performance CPU and HD graphics backbone...

NEXCOM brings you the NISE 4300, our next generation of advanced Intel® Core-based fanless computers...

EMBUX introduces its newest ARM embedded board, the EBC3A1-1G Y0, particularly intended for machine manufacturers and system integrators...

NEXCOM introduces the fundamental solution to these concerns with the nROK 6222/VTC 6222, a rugged mobile computer specifically designed to connect with IP surveillance cameras for monitoring purposes...

NEXCOM is proud to introduce its latest series of mobile communication hubs, the nROK 6221 (rolling stock), nROK 6221-IP (rolling stock with IP65 certification), and VTC 6221...

NEXCOM is thrilled to reintroduce the SBC EBC 357X series with a revamped design that withstands adverse temperatures and economises space with its upside-down CPU...

NEXCOM has launched a multi-connectivity and maintenance free fanless computer, Neu-X100. Featuring compact size yet with full functionality, Neu-X100 can be widely used as retail solution...

Commercial applications demand power, which traditionally used to mean hardware bulk and high operating costs. But with single board computers such as the NEXCOM PEAK 889VL2...

Throughout this year we supported three new charities, the Dogs Trust, 1st Durrington Scout Group and The Martlets....